Every company is different. The work that you do daily is going to look different than what happens at another business. However, one thing that should be the same at every company is a commitment to safety and quality. All companies need to be doing their utmost to protect their employees from incidents and follow safety regulations. To that end, a safety management system can help businesses of all sizes and industries. However, most people do not know that much about safety management software. To help, we have compiled a list of eight things you should know about safety management systems.
What is a Safety Management

System?
Safety management software is any system that is designed to track and promote a company's safety efforts. It's focused on reducing risks to employees and preventing them from getting injured while on the job. Many companies implement safety management systems to find, assess, and control any hazards that employees or the public may face. Safety management software comes in all shapes and sizes. When implemented properly, a safety management system can help your company set up and keep a culture or safety and wellness throughout your entire organization.
The Components of a Safety Management System
Now that you know what safety management software is, let us look at what goes forms a safety management system. Safety management software has 5 major components: hazard identification, occurrence reporting, risk management, performance measurement, and quality/safety assurance.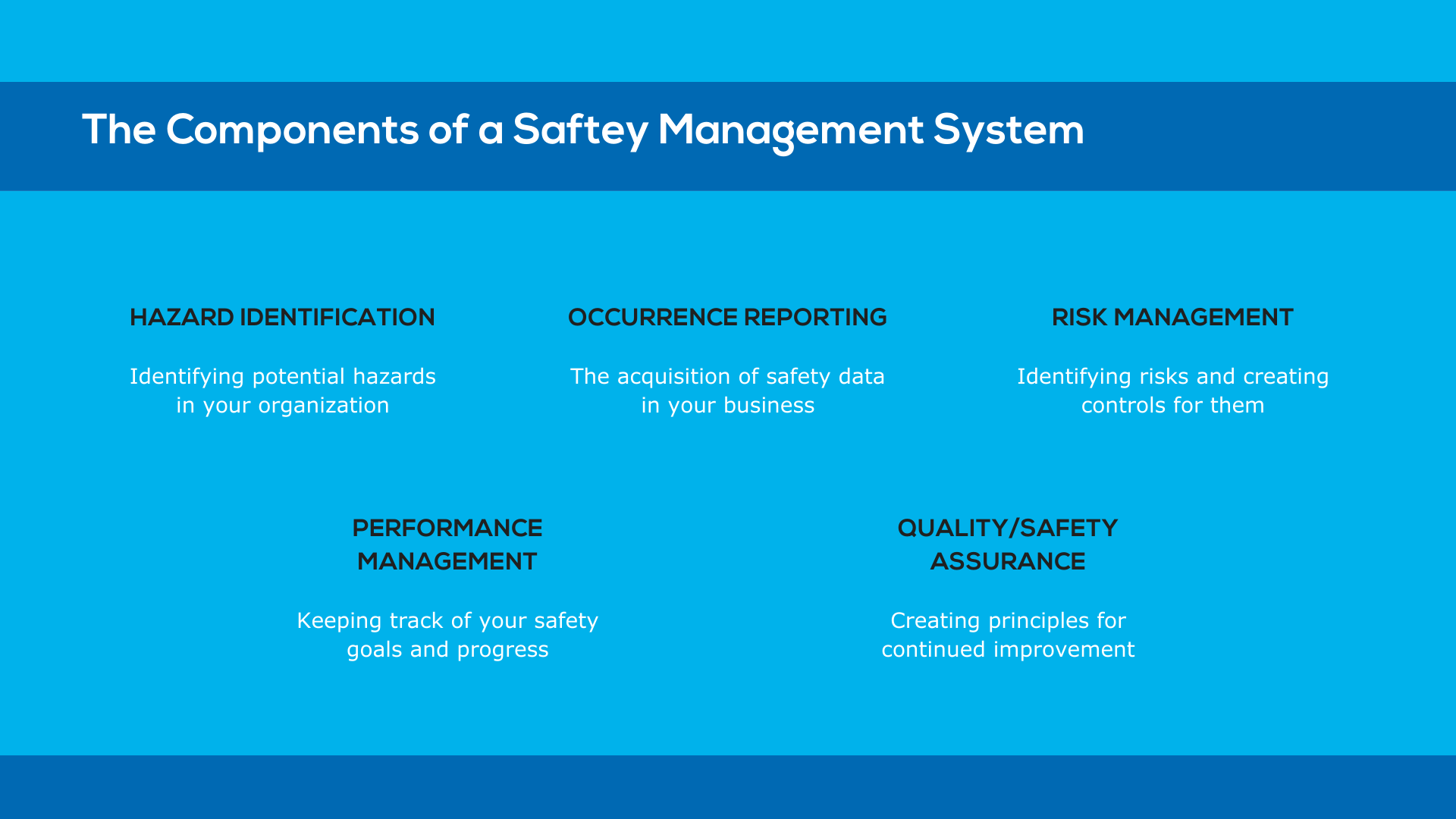 Hazard Identification
This refers to your company identifying potential hazards in your organization. These can range in size and severity.
Occurrence Reporting
This refers to your company's acquisition of safety data. Primarily this is employees identifying issues and problems that happen on the job.
Risk Management
This refers to the way that the safety management system helps your company identify risks and create controls for them.
Performance Measurement
This refers to the safety management software helping your company track whether you're achieving your safety goals or not.
Quality/Safety Assurance
This refers to the safety management system helping your company establish principles and measures for the continuous improvement of your company's safety performance.
All of these components come together to ensure that a safety management system can help your company reduce risks and incidents for the safety and security of your employees.
Everybody Plays a Key Role
Everyone in your company has a role to play in keeping and using your safety management system. It is not just up to a single department or person. Everyone should be making regular use of your safety management system to ensure that proper safety procedures are being followed. Most employees will be using the system primarily for reporting – seeing potential issues and inputting them into the safety management software. For managers and above, they will handle continuously implementing and keeping new safety procedures in their departments as issues become clear. This can include simple procedure changes to the allocation of monetary and physical resources. No matter what level, everyone should be using the safety management system regularly.
S

afet

y

Management Systems Help with Decision Making
Safety management software plays a key role in helping your company tracking information about your business. This includes the medical background of your employees (preexisting conditions, disabilities, etc.) and any risks that might be posed by your facilities/work. A safety management system makes it easy to find and diagnose safety risks before they become accidents. All of this is key information that you can use to make informed, comprehensive decisions that will help your company.
Safety Management Systems Keep People Safe
Everyone in your business reliably using your safety management system can ensure that your company is safer. By finding issues before they blow up into major problems you can reduce the number of accidents that happen on the job. Further, if all your employees are using the safety management software it helps create an atmosphere of safety. What this means is that workers are going to be more mindful of issues and take greater care when doing their jobs. By being more careful your employees are going to reduce the number of accidents that happen at your company.
Safety Management Systems Save Money
In 2018, the total cost of workplace injuries was $170.8 billion. This figure includes wage and productivity losses ($52.4 billion), medical expenses ($35 billion), and administration expenses ($57.6 billion). Accidents that happen on the job can really hurt your bottom line. This number only covers what happens after a workplace injury. This does not include any fines or fees your company might have to pay for failing to maintain compliance. Nor does this include money lost from lawsuits that may occur if the injury happened due to negligence on your business's part. So, while a safety management system might seem like a steep investment up front, it can help you save money in the long term as your company is able to avoid incidents and accidents that might lead to injury.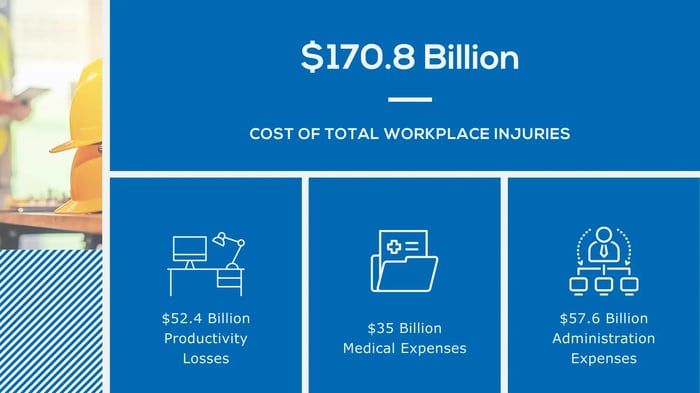 Safety Management Systems Lead to Continuous Improvement
By using safety management software, you are setting your company up for continuous improvement. A safety management system compiles all the minor issues and problems facing your company in one location. You can use this information to build a comprehensive roadmap for building a better, safer workplace. It allows you to create clear benchmarks for what safety and quality. Further, safety management software can help you figure out priority changes so no one gets distracted or focuses on the wrong things.
Safety Management Systems Improve Employee Morale
By adopting and using a safety management system you are letting your employees know that you value their health and safety. People do not want to work for a company that does not care about their wellbeing. People want to work for companies that invest heavily into taking care of their employees. Safety management software provides you the information you need to find threats to your workers and resolve them before they become problems. As your workers notice this it will improve their morale and cause them to be more engaged.
Conclusion
No matter what industry you work in, safety should be a number one priority for your company. A safety management system can help your business with creating an atmosphere of safety and quality. If you have any questions about safety management software, or you'd like to learn about Safepoint – Dock 365's safety, quality, and risk management system, fill out the form to the right. We'd love to schedule a free demo to answer any questions you may have and show you how Safepoint can help your company.
Book a
Live demo
Schedule a live demo of Dock 365's Contract Management Software now.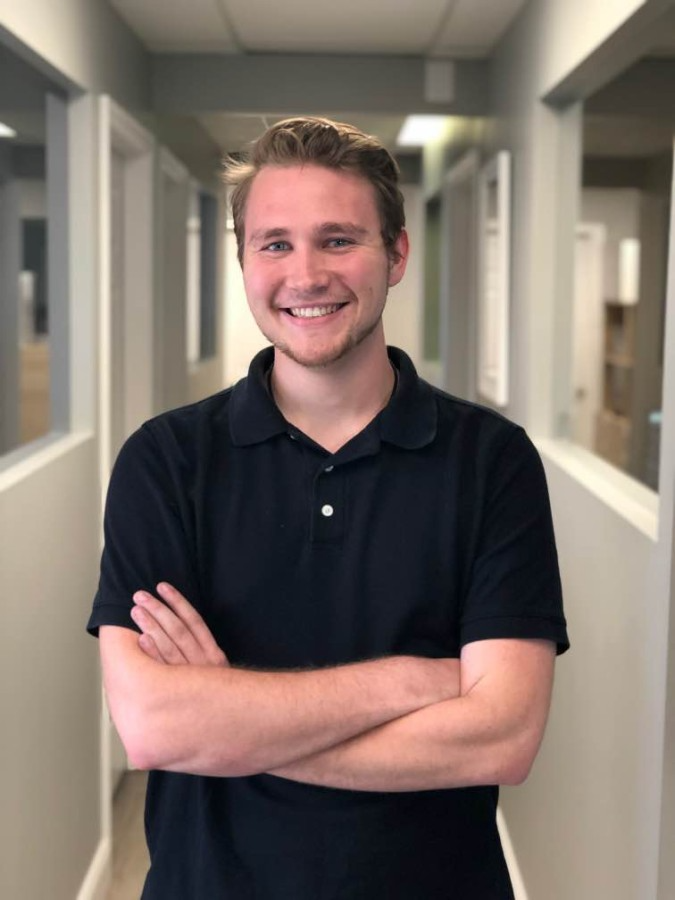 Quentin Russell is a Content Specialist with knowledge of Content Marketing and Social Media Marketing.