Are you a small business with 50 employees or more? If so, your workflow can show improvement by using an intranet for employee collaboration, effective communication and asset organization just for starters by upgrading your SharePoint intranet portal benefits with Dock 365.
Not exactly sure what an intranet is? It's a local or restricted communication network within a private network using the world-wide-web software.
We recommend using Microsoft SharePoint. You may be asking yourself if your IT department can handle this. Rest assured, you will not have to worry because the standard SharePoint intranet comes with the support you'll need every step of the way.
A well designed intranet portal ensure employee adoption and also make it easier to manage. Think of it as an overlay to the system that can be branded to your company, thus making it unique and customized to display the tools you use the most. These top features within Dock specifically for small businesses will ultimately increase productivity at an affordable price.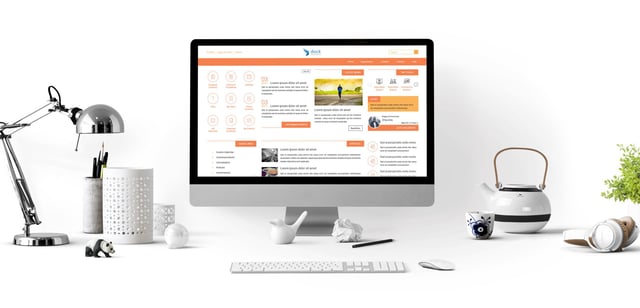 1. Beautifully custom designs to match your company business needs
Intranet portal must match your company brand and specific business needs.
2. Simple navigation and intuitive organization for users
Intranet must be designed to keep the navigation and user experience in mind. Dock intranet is designed with the users in mind. It's easy to understand, with simple navigation and intuitive organization. Your users will never waste time searching for missing files again.
3. Elevates SharePoint intranet with host of features
SharePoint's easiest out-of-the-box feature is document management. Dock elevates your SharePoint to a full-fledged intranet with a host of features that can be customized for your team's needs.
4. Support every step of the way from planning to development
We're not just SharePoint experts, we're enterprise productivity experts. We'll be with you every step of the way from planning to deployment to make sure you have the intranet of your dreams.
5. Preorganized storage areas for searchable documents
SharePoint is built on the tenets of document management. We elevate SharePoint's document management capabilities to the next level by pre-organizing storage areas for each of your teams and projects and helping to make sure that every document is searchable.
6. News and announcements with a private company-wide blog
Dock's news and announcements feature gives your business a private company-wide news blog. Share exciting news with your whole team in an easy-to-update platform where your team can like, comment and share articles just like in the social media they already use.
7. Combined with Office 365, take your intranet on the go
Dock with SharePoint and Office 365 works wherever you are. Take your intranet on the go with a beautiful platform that works as well on your phone at the beach as it does on your computer in your office.
8. A powerful employee handbook automatically imported
Dock has a uniquely beautiful and powerful employee handbook. Your employees' information is automatically imported. It's easy to search, beautiful and full-featured.
9. Integrate your apps such as SalesForce and Yammer for easy access
Our internal app market is where all your integrations will be set up. Set up integration with the applications you're already using, like SalesForce and Yammer, and then access them right from your home page.
10. Employee collaboration to improve communication on projects
Empower collaboration among every one of your teams. Dock's departmental portals provide a place for each team to communicate and collaborate on projects. Internally share documents, lists and plans within your intranet. Departmental portals create a virtual shared office space with documents, news, calendars and discussion space.
Within the SharePoint intranet portal, Dock can organize into teams such as an HR portal, promote employee self-service, training, finance, projects, sales, marketing, IT department and special portals for specific industries and businesses.
The days of lost information hidden in stacked emails and assets disappearing for your servers disappear like last year's news. Your employees will be more productive and your bottom line improves. Now that is an intranet portal of your dreams!
Want to Learn More?
Request a demo with one of our SharePoint intranet specialists for a no-obligation demo to find out exactly how Dock can increase your company's productivity.
P.S. If you're looking for a simple solution for document migration to SharePoint Online, read more about our new software, MyGrator.
She's a multimedia producer to include writing, photography, graphic design and video. She enjoys learning about new technology for business and exploring her city in Jacksonville, Florida.