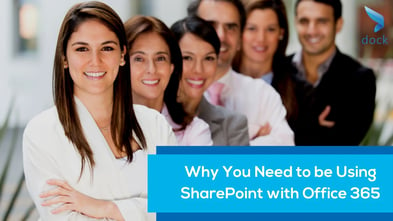 In today's modern work environment, remaining unconnected amounts to at best irrelevance and at worse corporate suicide. Anyone would agree: look at the advances made by networks all around the world. Name one way in which they haven't made our lives better. But still we find their capacities untested, their potential unused in our work lives. Why?
We would argue that this is partially because there's so much the average user doesn't know about how to properly integrate software and networks. This is completely understandable, as there are so many options and variables that a person could easily feel overwhelmed and give up.
This is where Microsoft comes in.

Long hailed as a definitive source of software and networking solutions, most of us know Microsoft as the developer of ubiquitous programs such as Word or the Windows operating system. But did you know about SharePoint, their comprehensive intranet solution? Or that it's completely compatible with the Office 365 suite of programs?


If not, here are a few reasons why you need to be using SharePoint with Office 365:


1. You need a dedicated intranet portal for your organization or business

We all know how great the internet is – it connects everything with everything. But what about when you don't want universal access to certain files? What about when there needs to be a smaller, contained network within your business?
This, in a word is what intranet means: a private, customizable network that does what you want it to do. Nothing more, nothing less. While most companies have some kind of internal network, they might not be using it to its full potential. And the potential is mighty.
One reason why you need a dedicated intranet portal in your company is that it creates seamless connectivity when it comes to your employees, content and projects. While you could hire an IT professional to create a custom network, most of us are okay not reinventing the wheel and using the solutions already developed by companies like Microsoft. With full integration with their vast suite of products (not to mention enterprise social networks like Yammer), you can get everything up and running without a headache.
Besides, for the company that has green development on the horizon, intranet is a great way to go paperless. What's there not to love?


2. Provide consistency and standardization across your operations

If you're working with clients, few things are worse when they notice inconsistencies. Whether it's a long-unupdated set of graphics, discrepancies when it comes to would-be standardized documentation or content that's left to go stale, customers notice. They assume unprofessionalism and, in the worst case, move on or leave bad reviews. Making sure that everything is consistent and standardized across your company is a must.
With a fully-operational, fully-integrated intranet system this becomes simple.
With SharePoint installed on all company devices, it's easy for everyone to be using the same programs and be generating the same kind of content. Plus, it scales well on any device and so it doesn't matter how your employees are accessing the network.
That, and SharePoint was put together with a scalable, open architecture that supports a wide variety of web services as well as interoperability standards. This allows for integration with systems that already exist in your company as well as with non-Microsoft programs that you're hoping to utilize.
With everybody working on the same page, you won't have to worry about jarring inconsistencies or time wasted looking for standardized solutions.


3. Save time by sharing all necessary content across the network

Imagine a world in which you're not constantly scouring your emails for the right file. You know what we're talking about: someone referred to a PDF they sent you a month ago and, not wanting to admit you've misplaced it, you spend a whole hour going through all your various accounts.
That's an hour of lost productivity right there.
When you integrate SharePoint with Office 365, you'll have the opportunity for seamless sharing of any file to anyone on the network. With just a few clicks, you'll be able to send anything off, or find files that have been sent your way in the meantime.
That, and with enhanced search features you and your colleagues won't misplace anything ever again. Take folders: what starts with good intentions evolves into an organization scheme that resembles nothing more than a Russian doll. When you integrate SharePoint and Office 365, you'll be able to utilize traditional folder structures as well as display files according to personalized metadata tags. View things as you need to, every time.
Need to share Excel sheets containing proprietary information or sensitive financial details? Use Excel Services through a web browser on SharePoint to work on shared documents without including details you would much rather remain confidential.


4. Empower your staff to make better decisions

Not only is your team going to be more productive with the streamlined services made possible by SharePoint, but they'll be able to use the most up-to-date information when making important decisions. The software enables business intelligence (BI) portals that are interactive and aggregate essential information from various sources.
Among these can be key performance indicators (KPIs), dashboard activity, score cards and the like. The customizable Centralized Report Center provides users with a one-stop spots to find the information they need for whatever projects they're working on.
What's more, the Enterprise Search function allows employees to find particular files, projects and contact details with ease. This allows for them to know exactly where their colleagues and clients are at while saving time.
With all these features and more, it's easy to see why integrating SharePoint with Office 365 makes for a powerful intranet portal for you and your company. To make things even more convenient, integrating portals like Dock into your system allows for even more ease and access to the
information that matters most to you and your clients.
Everything's already here for your new, effective intranet system. All it takes is integrating a series of excellent programs and software suites for your company to experience greater productivity, efficiency and growth!
Book a
Live demo
Schedule a live demo of Dock 365's Contract Management Software now.
Writer, Marketing Consultant & Video Director