It is essential to make the content you are generating in the SharePoint environment reach the right audience. Along with that, you should also assure that your users are not seeing any unnecessary content. This allows you to avoid unnecessary clutter and to assure accurate and efficient communications/interactions. We are going to show you how to do Audience Targeting in Modern SharePoint Sites to utilize the potential of the platforms to the best extend.
Content:-
What Is Audience Targeting and How It Works in SharePoint
With audience targeting, you can assure that the audience will be provided with the most relevant content. By using this feature, you can make sure that page libraries, SharePoint web parts, and navigational links are showcasing specific content to the defined audience based on priority. Audience Targeting can be applied in 4 resources.
Pages – You can set target audiences for specific site pages in a page library.
News web parts – You can set news posts to show only to specific audiences. This works in the Mobile app, SharePoint start page, and news web parts.
Navigational Links – You can customize the links to display before specific audiences in the navigation of a SharePoint site. This includes the Hub as well as in the footer navigation.
Highlight content web parts – Highlighted content web parts can also be configured with audience targeting to display priority content dynamically in a specific site, page, or site collection.
How to Set Up Audience Targeting
We explored the audience targeting ability so deep when we run into a requirement in our company, where we wanted to customize the content viewing experience for our multiple teams. For that, we want to personalize the content viewing configuration for some of our busiest SharePoint Sites and Hub Sites. The best way to optimize the viewing experience was to set up audience targeting for files, news, and navigation of our SharePoint Modern Sites.
The first step was to determine which of the page library files, news sources, and navigational links will be relevant to specific audiences or departments. We have set up different Microsoft 365 Groups for each department earlier. These groups are very helpful in managing shared resources such as Planner, OneNote, and email among our members. There are three stages in setting up Audience Targeting in SharePoint Modern Sites.
Stage 1 – Go to 'Site Pages' and enable Audience Targeting' feature. Select pages to target the audiences you want. When the audience targeting feature is enabled, you will see an Audience column in the Site pages list.
Stage 2 – In the second stage we configured audience targeting for News web parts, and then we configured a few posts to make sure they are seen only by specific audiences. Non configured posts still stayed as visible to all.
Stage 3 - In the next stage you can enable audience targeting in the hub site menu and footer menu. We also targeted links to specific audiences and when it is enabled, you can see navigational links along with the hub sites.
How It Looks When You Have Enabled Audience Targeting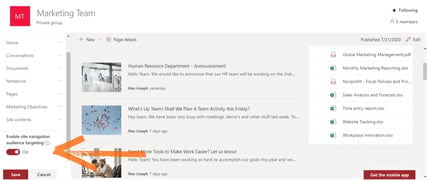 When you have turned on the audience targeting feature and configured it according to your requirements, it will look like the following. Your SharePoint Start page, header, and footer menus, News web parts, and news on the mobile app will now have personalized views. For all posts you have set up the audience targeting, it will now show before assigned audiences only. This means a user from your HR department will not see only news from the HR department. Posts that are not configured for audience targeting will be visible to everyone at the same time. Even when they access the Hub site menu, they will again see only relevant links and not links to any other department portals that are not relevant to them.
Things to Know About Audience Targeting
Even though audience targeting is a popular feature now, there are many misconceptions about it too. Audience targeting may look like a filtering or security option, but the fact is that the feature just makes sure the user sees only content that is relevant to him in the primary view. If the user searches for a news post or clicks 'See all' options, they will see all hidden news. Intranets can be made more personalized for each user with this option. With audience targeting, users from different departments visiting the same page will be shown different news posts based on what makes more value to them.
The publisher can decide which users or audiences should see specific content. Users cannot decide what content they want to view. Users usually are not aware of this content marketing process. Targeting content to a specific audience is not a new feature, it was even there in the classic SharePoint. With this new feature, Microsoft made targeting content to specific audiences easier.
In our next blog, we will show you step by step instructions to configure audience targeting for a site, hub navigation, and pages in a library. You can also see how to set up web parts to enable audience targeting. Hope you got a nice insight into Audience Targeting in SharePoint Modern Pages from this blog post.
Have a Good Day.
Book a
Live demo
Schedule a live demo of Dock 365's Contract Management Software now.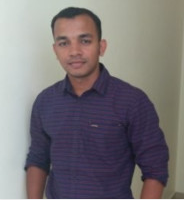 Alex Joseph is a Digital Marketing Strategist with explicit knowledge in Content Marketing and Microsoft Technologies. A writer by day, Alex is a night owl and a DIYer. Alex's theory is to make businesses achieve success with modern solutions and smart exploitation of resources.