Why is organizing your marketing efforts so critical? "Because one aspect of a marketing plan affects all of the others, coordinating your activities is critical to eliminating interference and maximizing your profits," stated the Small Business Chronicle.
Digital Workspace
The top four challenges facing marketers in 2018, according to research, are generating leads, proving ROI on marketing activities, securing enough budget and identifying the right technologies. A dedicated marketing intranet portal is that "one aspect of a marketing plan" that can affect all others, and help marketers meet the above top four challenges. How so?
The best marketing strategy will prove fruitless if your basic materials are unorganized or not stored in a way that allows staff to have easy access. Marketing materials, social media accounts, website updates, the list of items for marketers to keep up with are endless. The first step to successful marketing is organizing these marketing vehicles. Implementing a dedicated marketing intranet portal accomplishes all of those objectives. Consider five key advantages to investing in a marketing intranet portal.
Protect your brand.

Your marketing portal houses pre-approved templates for marketing materials. When other departments need to create any type of document, they can simply access a template. This protects your brand identity, and maintains your professional look. A customized portal can limit the amount of access a person has, depending on their position within the organization. Those skilled in design can be the only ones with access to edit critical marketing document layouts.
Monitor social media.

A marketing portal makes it easy to monitor your company's activity across multiple social media accounts in one snapshot. Open posts directly from the portal to engage followers. Schedule multiple posts across numerous platforms and monitor the traffic. Stay on message with pre-approved content that is set up by your professional marketing team.
Track ROI.

A dedicated marketing portal keeps a detailed history of all orders, materials usage and social media activity. Marketing managers can receive real-time reports showing where and how materials are being used, who is ordering what, and what social media platforms are receiving the most activity. Tracking these critical analytics also gives marketers critical data used for budgeting. Valuable analytics, such as those found in a

SharePoint

intranet, also give valuable insights into the ROI of the intranet itself, and provide data on how to optimize it. For example, track what search terms employees use to find files. What pages are they viewing the most? What pages have the highest bounce rates? Gauge your marketing portal's value by tracking how it's being used.
Have materials that are ready on-demand.

Regardless of where your employees are located, they can access the portal and print whatever they need. Instead of waiting on the marketing department to customize a piece for a specific client, salespersons can access the template and make adjustments to the text. Within minutes, they have their custom marketing pieces. Employees also have access to important data about the documents, including comments about usage, who authored it, the date it was created and copyright information. A dedicated marketing portal is the ultimate solution for effective document management.
It grows with you.

No matter how many documents you create, how many locations you open or how many employees you hire, a dedicated marketing portal is completely scalable. It automatically adapts, keeping the same high speed and efficiency.
Let's get back to those four challenges mentioned in the outset. An effective marketing portal helps meet those challenges. Leads are more easily generated by effectively managing your social media presence. ROI can be meticulously tracked because the portal identifies exactly what's being used with what results. You'll have all the tangible budget data needed to forecast spending and ROI. Lastly, you can identify the marketing technologies that are working best. Whether it's social media, email, or print materials, your portal will help you to see what's being used the most with what results. Dock's SharePoint content management designs are ideal for your marketing portal. Simply subscribe to SharePoint through Office 365, and let Dock take care of the rest. Manage all your visible assets and social media in one place. Talk to our experts today about your dedicated marketing portal.
Book a
Live demo
Schedule a live demo of Dock 365's Contract Management Software now.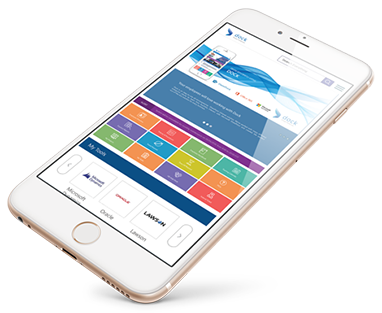 Our Insights. Learn with our Latest Blogs about SharePoint.