Forced social distancing as a result of coronavirus outbreak has led to many businesses resorting to remote working. While some organizations have quickly adapted, many are in triage mode. They aren't very familiar with online working environments and consequently are struggling. Working online from home can be extremely effective and productive when you do it right. Microsoft Teams is a great tool for companies to use to help with remote working. To help you make the best use of the platform, here are 10 ways to make an online meeting with Microsoft Teams more productive.
Content-
1. Include Users from Outside and Inside Your Office
What can you do when shelter in place orders and travel-restrictions prevent you from meeting in person with members of organizations? Microsoft Teams has a solution for that challenge. You can invite users from both inside and outside of your company to take part in meetings. All you need is to provide their email ID and Teams will do the rest. They will get all of the details including the meeting invite link and instructions for joining. The best part is that they don't even need to download anything - Teams works with any popular browser.
2. Take Total Control of The Meeting
In order to create the feel and impact of meeting in a live conference, Microsoft Teams offers a range of great options to give the meeting organizer total control. It is easy to assign specific roles and permissions to each meeting participants. There are options to set up a meeting lobby, assign rights for users to mute, record, present, etc. as required. This is great for keeping everything organized while working online.
3. Utilize Dial-In Capabilities
Whether it's due to need or preference, Microsoft Teams offers people the ability to use Dial-In capabilities. People who are traveling or people with an unstable internet connection can use the dial-in capabilities of Teams. The dial-in details and guidelines will be automatically provided along with the meeting invitations for people who have opted for audio conferencing.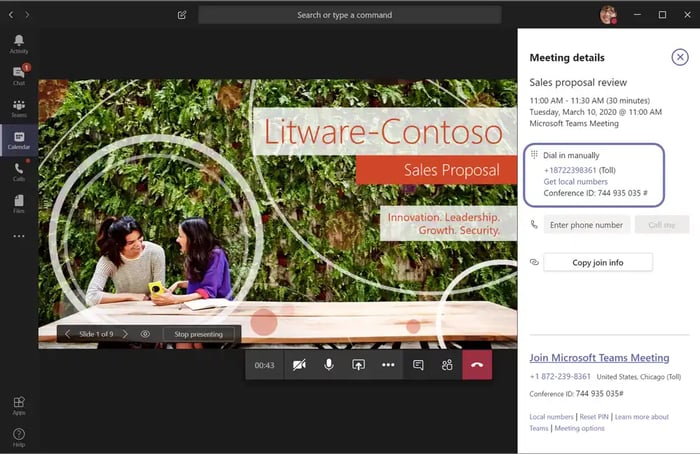 4. Meet Face-to-Face
Worried about not able to meet your clients and teammates in person during the Covid-19 outbreak? With Microsoft Teams, you can just turn on the video setting and do an online meeting to have a face to face conversion. In order to make conversation precise and distraction-free, you can even make use of the Background Blur feature. Encourage your team members to turn on the video to get a more in-person feel to combat potential social isolation.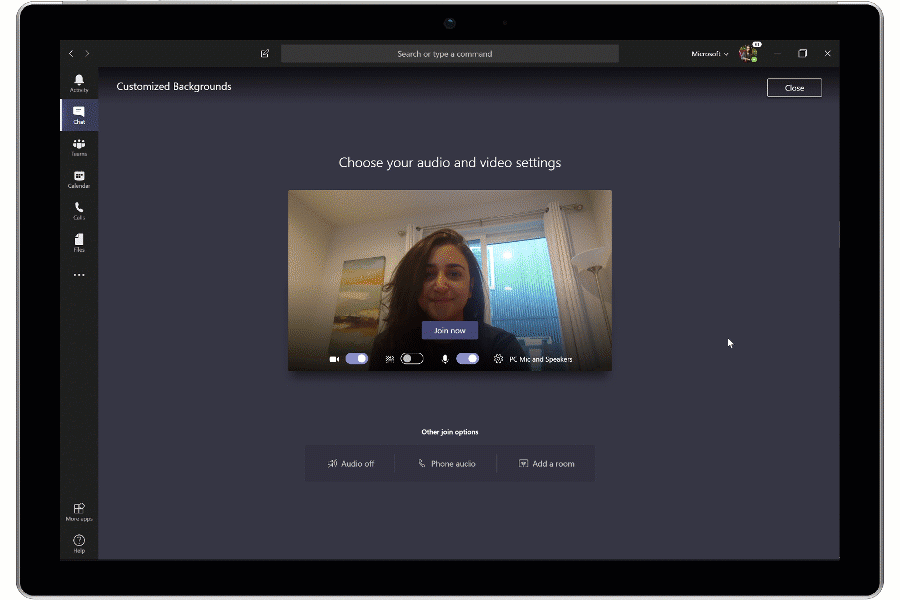 5. Microsoft Whiteboard Integration
Do you miss those days where you and your team brainstorm on a whiteboard? You might not be meeting in your usual office conference room until the coronavirus outbreak is under control, but that doesn't mean you can't do the normal "whiteboard" thing for now. With Microsoft Whiteboard integration users can still contribute with digital ink, which works with both mouse and touch. These sessions will be saved for future reference and use too. It's the little things like this where Teams really shines.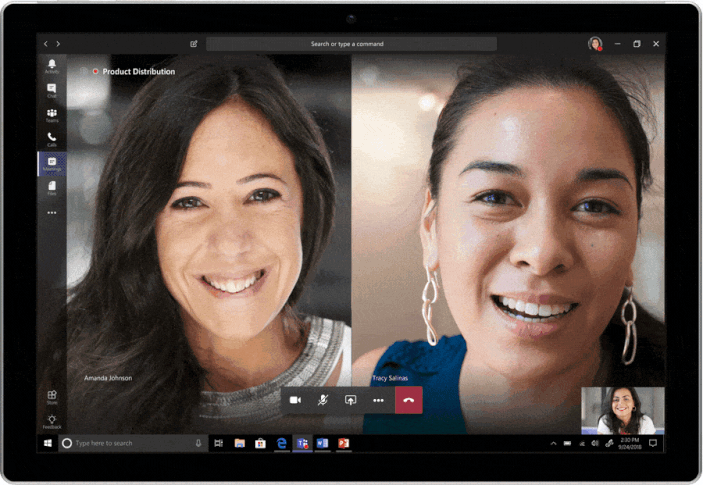 6. Manage What You Want to Share
The ability to share screen and content live is an incredible feature. Sometimes it becomes inappropriate if you do not have control over what you are sharing on your screen. With Teams, you can decide whether to share your entire desktop or just a specific window. You can even request a presenter for control while anyone else is sharing their app or desktop.
7. Record Meetings for Those Who Missed
There is a high chance that someone misses a meeting due to a double-booking or conflict in date/time. This happens especially when all your employees are working online, and many online meetings are happening at the same time. Organizing another meeting for just a few people might not be a good idea. In that case, you can record the original meeting and make it available for those who missed it. The meeting gets saved in the cloud and a link will be made available in the meeting chat too. Moreover, the user can search for a keyword in the transcript and skip to the relevant point in the meeting timeline just like that.
8. Turn-on Meeting Captions
Captions and subtitles made it very easy for us to understand unknown languages and people with different language proficiency. Turning on meeting captions in Microsoft Teams can help you listen to conversations clearly while connecting from a noisy background and help people who are hard of hearing.
At Dock 365, we have also done a live webinar in the topic 'Microsoft Teams From a User's Perspective' to let people understand the potential of this platform better.Click the banner below to watch the recording now.
9. Use Microsoft Teams Training Resources
Teams is designed and developed in such a way to make it easy for everyone to use. However, it comes with advanced features and options to give businesses a fantastic online meeting experience. From admins to end-users, the privileges, rights, and options vary. Take a look at the Microsoft Teams Training Resources to understand and use Teams better.
10. Get Teams-Certified Devices
High-quality video and audio experience is a key factor in bringing the best from the Microsoft Teams platform. To give businesses, organizations, and companies the best productive experience they demand, Microsoft has created a list of Teams-certified devices that work best with Microsoft Teams. With these devices, you can seamlessly work from anywhere.
From our experience with Microsoft Teams, to get the best out of this platform you need to create teams and channels appropriately and organize your communications and collaborations appropriately. Take a look at our another blog post in the topic 'How to create a company-wide team in Microsoft Teams' to learn more.
The tips, tricks, and technologies mentioned above let you make online meetings with Microsoft Team productive and easy. Try to implement each of them today and let us know which of them turned out to be most useful for your team. Remember, you don't have to use all these features and options in every meeting. Ensure that your team members know about these features and they are making use of it at the right time to remain successful throughout the corona virus outbreak.
Book a
Live demo
Schedule a live demo of Dock 365's Contract Management Software now.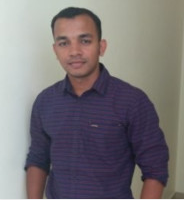 Alex Joseph is a Digital Marketing Strategist with explicit knowledge in Content Marketing and Microsoft Technologies. A writer by day, Alex is a night owl and a DIYer. Alex's theory is to make businesses achieve success with modern solutions and smart exploitation of resources.