When working in the business field, you will oftentimes be required to create and maintain several lists. The method you use to process these lists can significantly impact both the accuracy and accessibility of these data sets. Microsoft Lists offers a wonderful solution that is created for the modern work culture. If you still use Microsoft Excel spreadsheets for tracking and recording your data and various list items, then we suggest learning about Microsoft Lists. Here, we will cover the most useful features of Microsoft Lists and how these features can greatly help your organization.
Microsoft Lists was introduced as a part of the Microsoft 365 apps in August 2020. Manual list managing processes involving spreadsheets and other documents are time-consuming and difficult. Microsoft Lists ensures that your organization can manage lists flexibly with enhanced collaboration capabilities and workflow automation.
Here are the most useful features of Microsoft Lists.
Content-
1.
Create Lists from Templates
The first feature you should learn about is the incredibly easy way to create a new list using available templates. You will have 8 templates to select from to get started with your desired list. Simply choose the template you want and select Use template option to get started with the list creation process.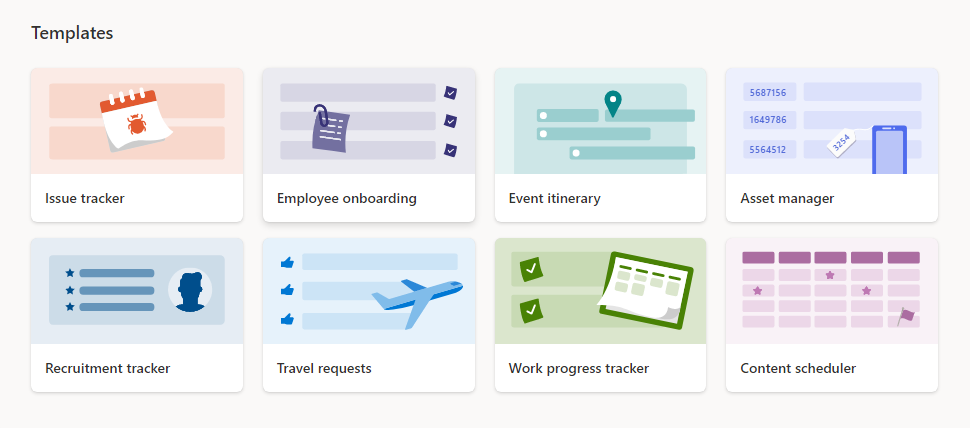 2.
Favorite
Your Frequently Used Lists
One easy way to assure quick access to your frequently used lists is by adding them to your Favorite list. Once you set a list as a Favorite, it will be listed at the top of your Lists home page in both your web and mobile versions. To add a list to the Favorite list, click on the star icon next to the list title when you are inside a list.

You can also click on the star icon shown on the list tile while hovering over your lists to do the same. Uncheck the star to remove lists from the Favorite list.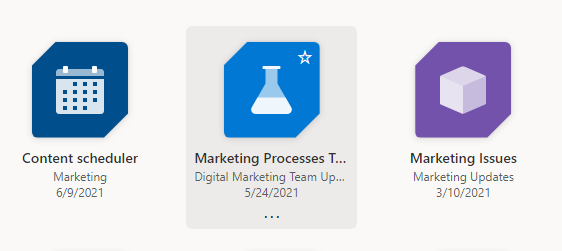 3.
Create New Lists from Existing Lists
It is not practical to create every list from scratch and set up all configurations and formatting each time. You can make use of the From existing list option to quickly set up a list by cloning an already existing list. Formatting, columns, list structure, and views will be cloned when you take this step to reduce your effort when creating similar lists.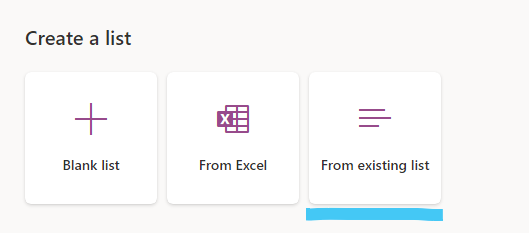 4.
Microsoft Lists iOS App
With the availability of the iOS app, you can now access your lists and lists shared with you from iPhones and iPads while on the move. On the app, you can create, edit, and share lists with others. Microsoft is currently creating an Android version that will be available later this year.
5.
Add Lists as Channel Tab in Microsoft Teams
You can add the Lists app as a tab in any of your Microsoft Teams channels. In this way, you can make lists from your older SharePoint sites or other Teams available to your colleagues to collaborate. You can also create a new list using this option.
6.
Calendar View for Date and Events Tracking
If you are someone who wants to track dates and events using lists, then we recommend trying out the calendar view to make month-to-month comparisons effectively. You can keep this view along with other standard views too. Creating custom views is also a good option to consider.
7.
@Mention Your Teammates to Trigger Notifications
Within Lists, you can @mention your team members and invite their attention to specific factors. This can also be done in the Teams app. When you @mention a contributor in the web app, it will generate a notification email to the user with a link to the list. When it's done in a Teams List app, it will appear as a Teams notification with a link to the list item.
8.
Grid View to Help Bulk Actions
When you have many lists to manage, making a bulk edit becomes tough. With grid view, you can easily make bulk edits in one-go. If desired, you can edit each list item individually. However, if you prefer to edit multiple lists items in instantly, use the grid view.
9.
Know When Your Lists Are Updated
You can create a rule on a list to make sure you are notified whenever there is a new update to the list. This is especially helpful when collaborating with more people.
10.
Conditional Formatting for Enhanced Display of List Items
Another fantastic feature you can explore in Microsoft Lists is conditional formatting. By using this feature, you can enhance the look and feel of the columns and rows in a list based on certain criteria. You can make necessary changes by going to the Column drop-down menu > Column settings > Format this column > enable Conditional formatting.
11.
Share Lists and Collaboration with Others Easily
The best thing about Microsoft Lists is that you can share it easily with desired users and collaborate online with ease. This ensures that regardless of you and your team's location, you can work together on any list seamlessly.
12.
Create Lists from Excel Documents
Prior to the modern software tools available today, we all were using Excel spreadsheets to maintain all kinds of lists. When you transition to a flexible and futuristic solution like Microsoft Lists, you can use an option that allows you to get started from current resources. This specific option allows you to create new lists from Excel files.
We recommend giving all of these features a try, and we are confident that it will help you work more effectively with Microsoft Teams.
Book a
Live demo
Schedule a live demo of Dock 365's Contract Management Software now.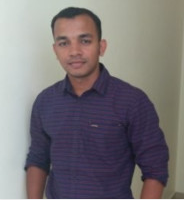 Alex Joseph is a Digital Marketing Strategist with explicit knowledge in Content Marketing and Microsoft Technologies. A writer by day, Alex is a night owl and a DIYer. Alex's theory is to make businesses achieve success with modern solutions and smart exploitation of resources.