Lists can be used to do a lot of things that can reduce your work difficulty. Earlier known as SharePoint Lists, Microsoft Lists is now made available as a cross-platform solution that can be accessed and operated directly from Microsoft Lists app in the Microsoft 365 app launcher, SharePoint, and Microsoft Teams. In this blog post, we are going to tell you about how to operate lists from Microsoft Teams, and detailed steps for each process.
Before getting into details, you need to understand few basics clearly, so that things will be a lot easier for you. Microsoft Teams is providing users with a desktop, web, and mobile experience. It comes with exceptional integration options with other Microsoft solutions like SharePoint, Planner, PowerBI, and more. As Teams is a major collaboration point for users, these integrations help them to get most tasks and processes done without leaving the platform. Microsoft Teams apps let you do a lot of exceptional tasks without leaving the platform. To start using Microsoft Lists from Teams, all you need is to add the Team List app as a tab in any of your Teams channels and keep going. We will tell you how to add SharePoint list to Microsoft Teams. Let us move to the details.
How to Create a List from a Microsoft Teams Channel
Team members can create and add lists from SharePoint, or existing Excel worksheets, or from existing lists. Guest users will not have the ability to create lists at any point. To create a list or add it to a channel, users need to be in the web client or desktop version of the Microsoft Teams. In the Mobile version, users will be able to only access and make changes to the already added lists. Let us know more about the Microsoft Teams list app.
Here are the steps to add a list to a channel using Team list app:
Login to Microsoft Teams from web or desktop clients.
Go to the preferred channel to which you want to add the list as a tab.
From the top of the page, click on the + icon which allows you to Add tab.
Add a tab dialog box will be open, choose Lists app from the app choices, and click Save.
Use the search option if you are not seeing Lists in the primary choices.
From the Teams page, choose Create a list.
You will be provided with options like 'Blank list, From Excel, From Existing lists, and templates.
Choose the preferred option and create the list by following the standard steps.
We have done a blog recently explaining all steps in creating a list from each of these options. Take a look at that blog first if you are not familiar with these options and methods.
Available Options to Add a List from Teams
The options provided for creating a new list is simple. Here is a brief explanation of each option.
This is the option you must choose if you are creating a new list from scratch. It will let you create a completely new list from top to bottom.
You can create a new list using an existing Excel worksheet. The structure and columns of the excel will be copied to the new list. The data in excel will not be carried over to the lists too.
If you already have a similar list and you wish to create a list with the same columns and list structure, this option can be used.
You will get to use a handful of templates to get started easily. Choose the one according to your requirement.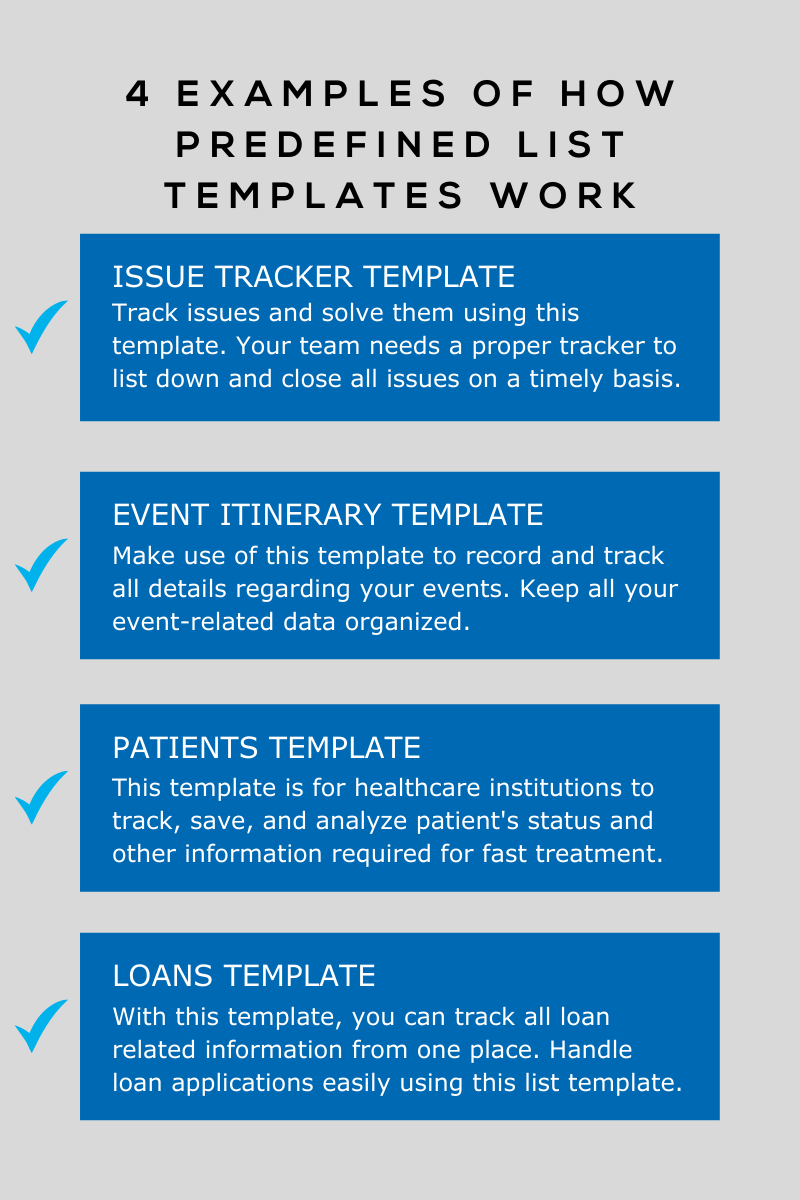 There are also other methods to add SharePoint list to Microsoft Teams. Let's see how it is done.
How to Add a List from your SharePoint Site to Teams Channel
Along with adding a new list, you can also add existing lists as a tab in the Microsoft Teams channel. Teams list app will help you do this easily. This will let all users visiting the channel easily access or view the list. With this option, you can add lists that are stored in SharePoint. Make sure you have the necessary permissions to carry out these steps. Microsoft Teams list app can do wonders when it comes to increasing the efficiency of your team.
Here are the steps to follow:
Login to Teams and Go to the channel to which you wish to add the list as a tab.
Click on the + icon to Add a tab.
From the Add a tab dialog box, choose lists and select the option Add an existing list.
The next page allows you to add a list you wish as a tab, listed below Select a list from the site
All lists in the team to which you have access will be listed in that section.
To add a list from a different Team of which you are a member, follow the steps below:
Go to the team site in which the list is added and open the list.
You can take the above step from the Microsoft Teams platform itself.
Click on the more options icon from the top of the opened list and choose 'Open in SharePoint'.
When the list is opened in SharePoint, copy the URL of the page.
Go to the channel to which you wish to add the list in Teams.
Click on the + Add a tab option, choose Lists, and choose Add an existing list.
When the Add an existing list page is open, paste the copied URL in the 'Enter a link' field, under Use a SharePoint link section, and click the next button.
The list will now be added to that tab.
These are some of the quick actions you need to be aware of to get started with the lists app in Microsoft Teams. Hope you learned how to add SharePoint list to Microsoft Teams from this post. Microsoft Teams list capabilities will let you increase your team's productivity. If you have any queries, let us know in the comments.
Book a
Live demo
Schedule a live demo of Dock 365's Contract Management Software now.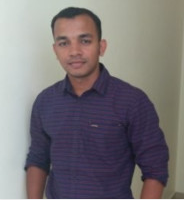 Alex Joseph is a Digital Marketing Strategist with explicit knowledge in Content Marketing and Microsoft Technologies. A writer by day, Alex is a night owl and a DIYer. Alex's theory is to make businesses achieve success with modern solutions and smart exploitation of resources.