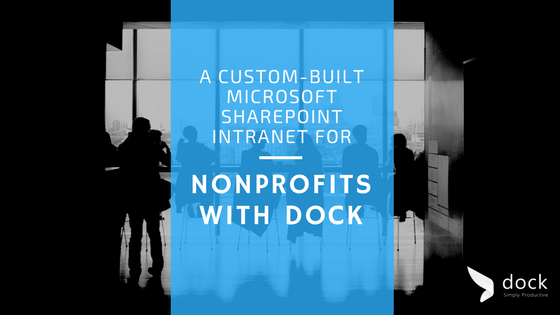 Nonprofits need to stay organized with tools that are affordable and robust. With Microsoft SharePoint and Office 365, Dock builds a custom intranet portal for nonprofit businesses. We'll take a closer look at the donor portal, custom homepage shortcuts, vendor list, and board meetings. Dock is a place to share ideas, store content, and bring the vision of your company to the forefront. It's scalable to organize and manage all your content. Making it easier for employees to collaborate, innovate and communicate more effectively for your nonprofit business.

Donor Portal
Dock has built a Donor Panel for Nonprofits, which includes shortcuts to:
Campaigns
Donor Companies
Contacts
Donations
Fundraising Activities
Reports
These panels are fully editable; however, we find that these are the most common for nonprofits. As you can see in the screenshot, the shortcut sections surround the main panels, like the businesses homepage. You can read more about how qualified nonprofits can create more impact with Office 365.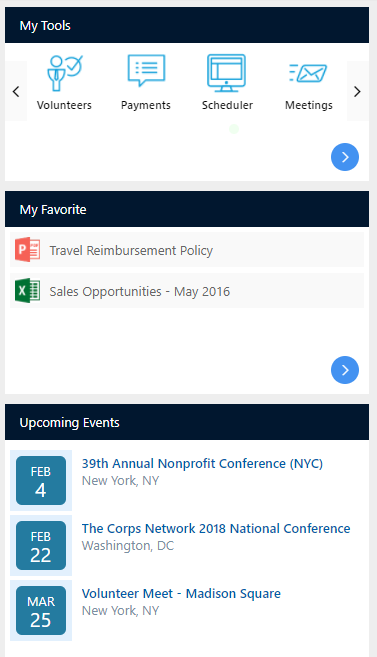 Custom Homepage Shortcuts
Here's a closeup of the shortcut panels displayed on the homepage of your company portal with SharePoint with Dock. This section allows your IT to configure applications by department along with a single sign-on capability managed by permissions. Quickly access to the areas you need will be customized for each employee for quick access and to deny access for more sensitive information. The Upcoming Events section keeps employees up-to-date with company-wide events as a reminder. It allows all the employees to quickly see the events so they can plan for them. Learn more about Dock's intranet homepage.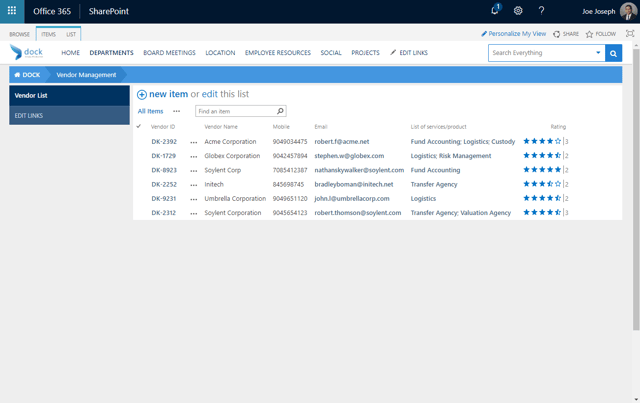 Vendor Management Portal
The vendor list is where you can keep track of current vendor's information such as the name of the company, phone, email, what type of products or services and the star rating. Learn more about how SharePoint extranet portal can help your team collaborate with Vendors and Customers.
Nonprofit Board Meeting
The board meeting panel is a key area for nonprofits to track and stay organized to plan their time efficiently. Watch a brief video about how to add new meetings to the boardroom portal. With SharePoint and Office 365, Dock has developed a platform to clearly display the needs for any business. Specifically, a new feature has been created for board meetings. This includes the information about the meeting such as title, date, time and location as well as meeting documents. The attendees of the meeting and a section for news and announcements.
You can include the location information such as the city where the office is located or even down to the boardroom if it's an internal meeting. Select the category to show "meeting" for this example. You can tag meetings by entering a value of finance as an example to track distinct types of meeting topics. The boardroom portal also includes an area to upload your meeting documents such as the agenda, minutes or the meeting's presentation if you have it ahead of time.
Suggested Blog: Qualified Nonprofits Can Create More Impact with Office 365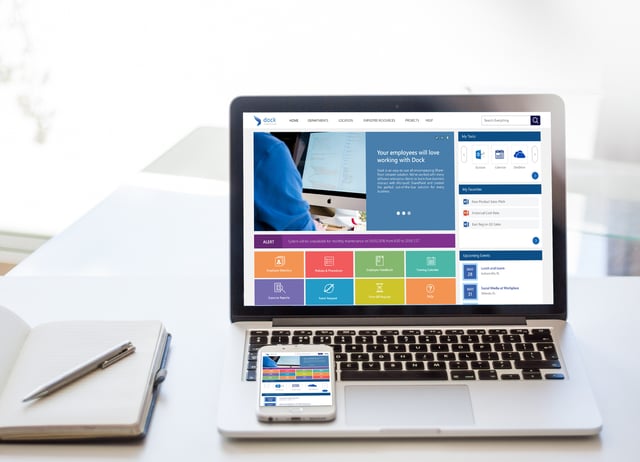 Dock Can Build Your Nonprofit Portal
Built on the platform of Office 365 and SharePoint intranet with Microsoft, Dock develops your portal to fit specific needs for a nonprofit business. Dock 365 comes with a jam-packed host of features out of the box. With a little collaboration between your team and ours, we customize Dock to be exactly the company intranet software that you need.
Book a
Live demo
Schedule a live demo of Dock 365's Contract Management Software now.
She's a multimedia producer to include writing, photography, graphic design and video. She enjoys learning about new technology for business and exploring her city in Jacksonville, Florida.