Microsoft SharePoint is a world-class collaboration and productivity platform. Businesses, schools, organizations, and even others can make the most of this platform and all its services to achieve smooth and efficient document sharing and collaboration. You can create sites and document libraries to organize, coordinate and collaborate on various aspects of your workflows. As part of empowering the users to work and manage processes efficiently, Microsoft is presenting a bunch of site collection features. In this blog post, we are going to show you how to disable or enable SharePoint Site Collection Features. Let us go straight into the details.
Overview of SharePoint Site Collection Features
These features are an integral part of your SharePoint experience. These SharePoint site collection settings have a crucial role to play in allowing users to make the most of numerous functionalities SharePoint is offering, such as the workflows, online help collection, and more. Most of these features will be disabled by default. However, you can enable all these features by configuring the SharePoint site collection settings anytime.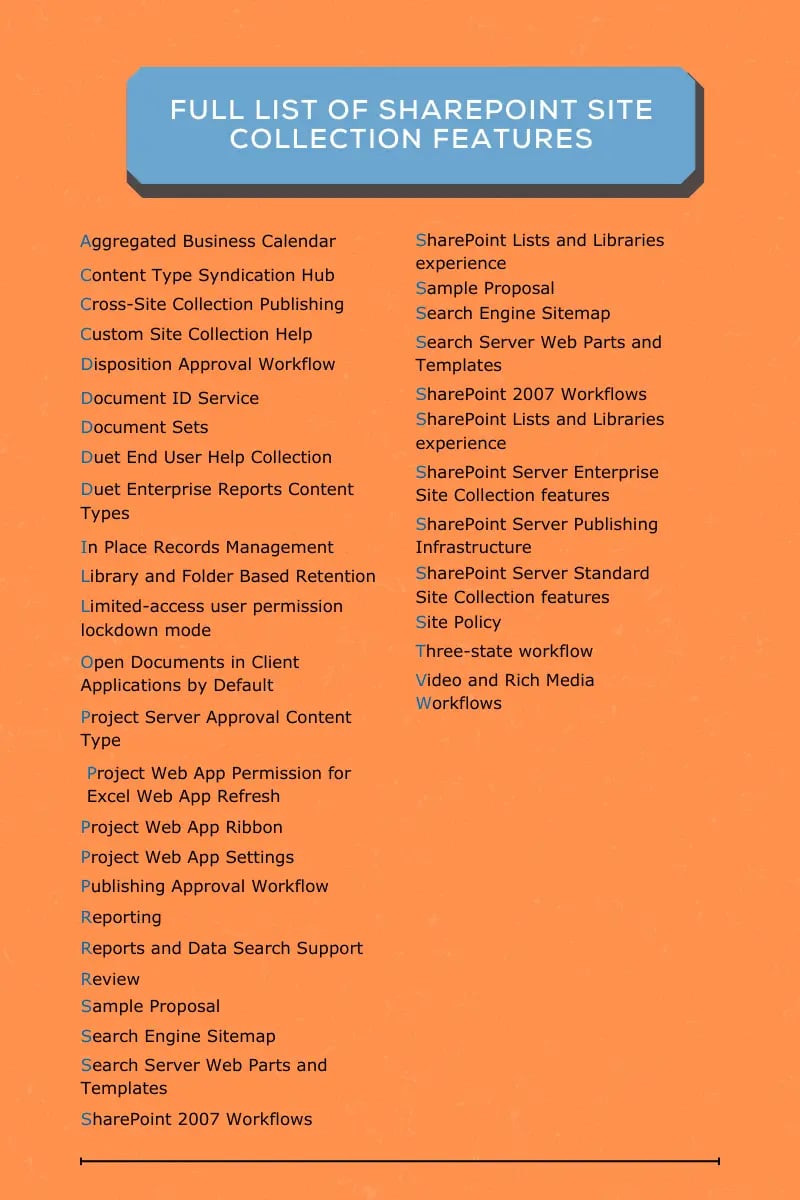 Steps to Enable/Disable SharePoint Site Collection Features
Here are the steps to enable/disable SharePoint site collection features:
On a Modern Team Site, Communication Site, and other sites, the path by which you can reach the site settings options might be a bit different.
On a SharePoint Modern Team Site, you can click on the Site contents placed on the left pane and choose Site settings option on the top navigation bar.
On Modern Communication Sites, you can find Site contents option in the top menu bar and choose Site settings.
On some other sites, you can click on the Settings icon at the top and choose Site settings.
If Site settings option is not seen, go to Site information and click on View all site settings.
Once the site settings page is open, choose Site collection features from the Site Collection Administration

You will be presented with a long list of features.

Each feature will have an Activate and Deactivate option which can be used to enable or disable the feature as required.

After making necessary changes to the SharePoint site collection settings, go back to your site home page.
Feature and Service Dependencies
Even though you get the opportunity to disable or enable all the SharePoint site collection features on the site settings page, some of those features have other requirements too. As some of these features work along with other applications or services, you may need to install or enable them first to make use of some of the features. In this section, we will introduce you to a few of such features and their service dependencies.
Document ID Service
This feature allows assigning unique IDs to documents in your site collection. This even helps you to retrieve and find documents no matter where their location is. For this service to work, you must enable the workflows to feature in the SharePoint site collection settings.
Project Web App Settings
This feature turns on the Project Web App Project management Settings. However, it requires minimum Project Server 2013, 2016, or 2019 and Project Application Service.
Search Engine Site Map
With the help of this feature, you can enhance search engine optimization. It does this by generating a search engine sitemap by including all valid URLs in a public SharePoint website. Anonymous access must be turned on for this feature.
Search Server Web Parts and Templates
It enables a list of Search Server Web Parts. Advanced Search Box, Related Queries, and Search Statistics are few among them. Got to any site in your site collection and check the web part availability by taking a site to edit mode and click Insert > Web Part.
SharePoint Server Standard Site Collection Features
It can turn on Search Service and User Profile Service. However, this SharePoint Site Collection Feature applies only to those subscriptions that come with a SharePoint Server Standard License.
Disposition Approval Workflow
The purpose of this SharePoint site collection setting is to make it easy for the user to decide whether to retain or remove expiring documents. For this feature to work, you must enable the workflows feature first.
Learn more about the SharePoint Site Collection Settings to make the most of these features. Stay tuned to discover more useful SharePoint Blogs.
Book a
Live demo
Schedule a live demo of Dock 365's Contract Management Software now.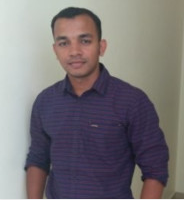 Alex Joseph is a Digital Marketing Strategist with explicit knowledge in Content Marketing and Microsoft Technologies. A writer by day, Alex is a night owl and a DIYer. Alex's theory is to make businesses achieve success with modern solutions and smart exploitation of resources.