The Sales Team plays a pivotal in any organization irrespective of the size or type of business. The team helps convert potential customers into paying customers for the products/services offered by an organization.
Does your organization have an Office 365 subscription ? Then, SharePoint is already a part of your digital workplace. Its low cost and productivity-boosting features make it one of the most preferred platforms for not just document management and collaboration but also managing sales activities.
So how can a SharePoint Implementation help your Sales Team ?? Dock 365 is the answer. It is a SharePoint Intranet Portal powered by Microsoft Office 365. The intranet solution comes with a dedicated sales portal that will help your team derive critical insights, sell more, manage and collaborate on contacts, leads and opportunities. Say no to Sales Management headaches with Dock's sales portal.
Central Repository
Quotes, contracts, catalog, presentation template, brochures, the list of documents is endless when it comes to your sales team .And these documents are nothing short of assets for your organization.

In order to maximize returns, you need to ensure that documents are well-organized and used properly. With Dock built on SharePoint, your team can access,organize, update, announce changes, and even provide instructions for use pertaining to each document.

The team can access documents from anywhere and any device. What more ? They can work on the same document at the same time thus increasing productivity.
Master Sales Calendar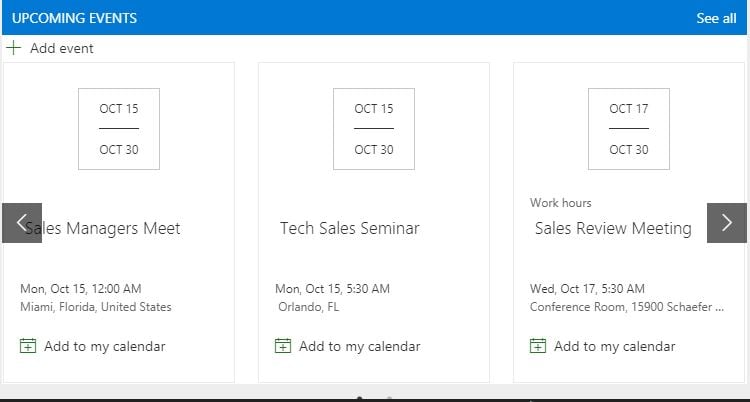 No more missed deadlines and overlapped business efforts. Dock 's sales portal offers a sales-only calendar and document library. It is a single place for your entire team to see all sales-related dates deadlines.
CRM Management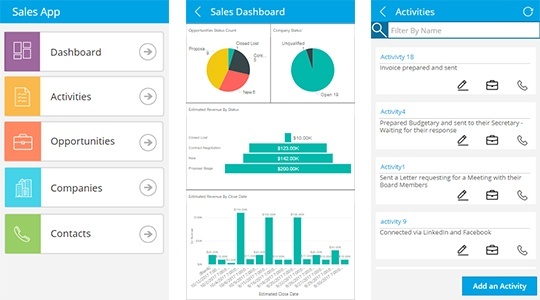 Dock's sales portal is a mini-CRM. The portal can be easily integrated with apps like Salesforce that you might already be using and you can access them right from your homepage. In case, you require an app exclusively for your business, we can even do that. Our team builds custom apps. Book a live demo with our SharePoint experts to learn more about custom apps we created.
Performance Analysis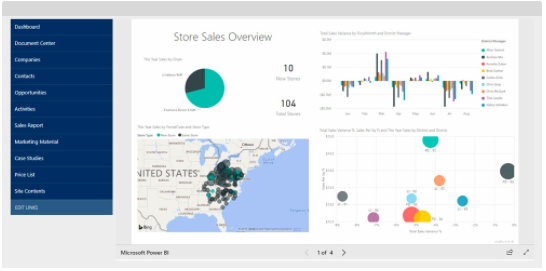 Dock utilizes Power BI to provide a 360 degree view. The intuitive dashboards present the important metrics, updated in real time and available across devices. It just takes few clicks to review the data and derive useful insights.
Watch the video to know more about the benefits of Microsoft Power BI with Dock
Undoubtedly, efficiency is the key when it comes to business success. Dock's sales portal offers a wide gamut of tools and features with an aim to improve efficiency of your sales team.
Increase ROI, have your sales team spend more time selling !!
Ready to know more ?
Schedule a free demo to learn how Dock's sales portal can transform your business !!
Book a
Live demo
Schedule a live demo of Dock 365's Contract Management Software now.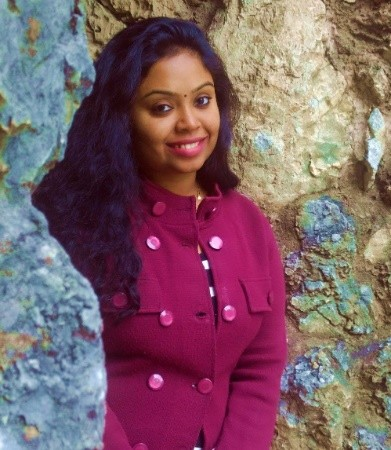 She comes with 4 years of experience in content management and have worked with brands from the US and UK. An enthusiastic content crafter, she loves travelling and learning about new Microsoft Technologies.