Organizations and businesses use a lot of techniques and methods to keep their employees engaged and connected. Conducting a survey is always an effective way to get to know the opinion of a group of people or users. By knowing the opinion/likes of the majority, you can make smart decisions and ensure better employee engagement too. We have done a blog earlier which shows how to create employee engagement surveys in SharePoint. Another advantage is that if you already have a Microsoft 365 subscription, you do not have to look for another survey software solution provider to streamline your surveys. In this blog, we will tell you what Microsoft SharePoint Surveys Does and How to Use them Wisely. You can also learn how to create a survey in SharePoint Online.
Content:-
What are Microsoft SharePoint Surveys
Microsoft SharePoint Surveys are perfect for collecting feedback, collecting data/information, and for evaluation purposes. You can develop custom questions, branching logic, and rating scales to make your survey work the way you want and accomplish the goals. SharePoint Site Owners can create surveys for their site users and collect information that can be used for various purposes. From surveys regarding tools available at work to exit surveys, Microsoft SharePoint Surveys can be utilized for a wide variety of uses and intentions. Understanding how it works and available options put you in a much beneficial position when it comes to using the survey option in SharePoint well.
How It Works
Earlier, team leaders and managers relied on email conversations to get feedbacks and evaluation processes. As there were chances for skipped questions and incorrect answers in that method, it was not as accurate as a survey. When SharePoint started providing the survey facility, they made it smart and advanced to avoid all the downsides of email conversations and include extra settings to take control of the process.
Options like multiple question types, the option to answer anonymously, and the ability to modify the way a user answer a question are some of the major highlights that make the SharePoint Survey work for modern businesses. The ability to answer anonymously allows users to be more open to surveys, whereas the multiple question type and answering modes help businesses to extract the best possible information/data from the side of users.
What are the Major Benefits of SharePoint Surveys
One of the biggest benefits of SharePoint Surveys is that it is simple. SharePoint Site owners can easily get used to the survey setup, and thus response collections and evaluation processes can be improved. You can even update a survey once it is set up, thus there is always a chance for improvement. Once the survey is completed, you can convert the results into an excel sheet to evaluate it as required. The survey list in SharePoint Online consists of many more elements you need to consider.
Multiple responses, editable responses, and visibility of the user's responses are some of the advanced features you can play with to improve the functionality of your surveys. You can also make the most of the Logic Branching facility to ensure that users are getting questions based on their answers. This will help to avoid irrelevant and unnecessary questions. Getting continuous responses from your team members, employees, or administrators will turn into a very crucial process once your business starts to grow rapidly. With Microsoft SharePoint Surveys, you can save your most important survey templates and re-use them as required. Thus, you will be able to save time which might get consumed by creating complex survey forms each time from scratch.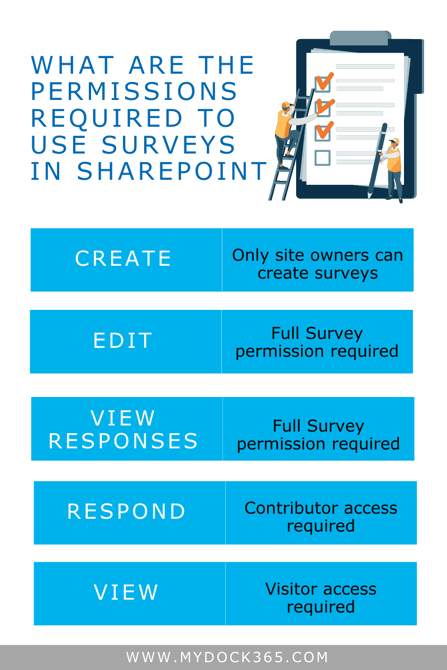 How to Increase Your Success with SharePoint Surveys
One important approach to getting successful with Microsoft SharePoint Surveys is to understand how your employees are handling these surveys and made updates that work for them. Behavioural targeting is one very effective way to make the most of these surveys. Ensure that your message lets the users understand the serious demand behind these processes. According to the previous behaviour of each user towards surveys, you shall send surveys to few users via email, whereas others might take it from the website banner area itself. If you have learned how to create a survey in SharePoint Online, you can make great results with these tips.
How to Use the Survey Facility
The first thing you need to learn is how to create a survey in SharePoint. Our previous blog explains that well. The first step to use the survey facility exceptionally in SharePoint is to plan for the survey accurately. Write down questions and make a detailed overview of the questions, especially if you are planning to use the branching logic.
After completing the survey creation process, make sure you run a few tests to guarantee that everything is created and working as per your plan. Take care of the permissions at this stage. Remove all permissions first and then assign permissions carefully if you are assigning surveys to a specific set of users only. Manage survey description page, URL, and decide the location of the survey where it is made, based on the target users.
It is a good idea to tell your users if it is an anonymous response enabled survey. Keep these points in mind and make the most of your survey list in SharePoint Online. We hope you have learned how to create a survey in SharePoint Online by now.
Book a
Live demo
Schedule a live demo of Dock 365's Contract Management Software now.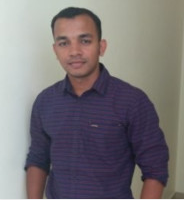 Alex Joseph is a Digital Marketing Strategist with explicit knowledge in Content Marketing and Microsoft Technologies. A writer by day, Alex is a night owl and a DIYer. Alex's theory is to make businesses achieve success with modern solutions and smart exploitation of resources.