One question we often get asked here at Dock 365 is "why does my company need an intranet?" It's a simple question with a massive answer. There is no one reason why a company should adopt an intranet portal software. Instead, there are a myriad of reasons that may have more bearing depending on your business and what it needs specifically.
While we can't cover all of the reasons why you should be using an intranet portal software, we can cover some of the major ones. So, with that said, let's take a look at some of the larger benefits of adopting an intranet.
Benefits of Using an Intranet portal software
Adopting an intranet at your organization can be one of the best decisions you can make. You'll see a wide range of improvements across your organization. Let's take a look at some of the ways your business will benefit from using a corporate intranet.
Drives Internal Communication
A recent survey conducted by the Computing Technology Industry Association found that 28% of respondents reported that poor communication was the primary cause of failing to deliver a project within its original time frame. A connected workforce is a productive workforce. In fact, the McKinsey Global Institute found that companies with a connected workforce can see a 20-25% increase in productivity. An intranet can provide your team a central space where they can easily keep in touch with one another an collaborate.
Connects Your Company Across Locations and Time Zones
Trying to manage communication and work across multiple locations can be difficult. This can be especially exacerbated the more these locations are separated by location and timezone. Multi-location companies often find themselves wasting time and effort trying to keep everyone on the same page which can cause delays and missed deadlines. By adopting an intranet, your company can eliminate any issues that come with disconnected teams. Information Age found that 75% of wasted time and effort can be eliminated by switching to a unified communication platform like an intranet. This can ensure your team is meeting deadlines and can reduce project times by up to 40%.
Helps Employees Find Information
Adopting an intranet won't just help your organization with communication. One of the biggest problems we've seen companies face is employees not being able to find the documents they're looking for. Interact Source found that 19.8% of business time - the equivalent of one day of work a week - is spent searching for information to do their job effectively. Whether these are important work folders, employee handbooks, or even just a document they've been working, things tend to get lost. By using an intranet, you'll gain access to a powerful search function that can help your team track down what they're looking for. No more monotonously clicking through folder after folder; just type what type in the name of the document and you'll be able to find it in no time at all.
Provides Organizational Clarity
A confused employee is an unproductive employee. Employees not being sure of what to do or who to go to can end up costing your organization time and money. ThriveMap found that 48% of workers had left their job because it wasn't what they thought it would be. Additionally, The Project Management Institute found that a lack of clear goals were behind 37% of project failures. Your team can't succeed if they don't know what they're doing and why they're doing it. An intranet can help alleviate this. An intranet with a clear, dynamic organization chart can help provide clarity and let people know what their position entails and who they can turn to with questions or concerns they may have about their position and the work they're meant to do.
Encourages Collaboration
The best way to grow your company's overall knowledge base is to ensure that your employees can benefit from each other's knowledge and experience. Failing to do so can spell huge issues for your business. The IDC found that Fortune 500 companies lose at least $31.5 billion a year by failing to share knowledge. Now, in all likelihood your organization isn't seeing any losses like that. However, there is a substantial cost to a lack of collaboration and knowledge sharing. An intranet is a great, centralized tool that makes it easy for your team to come together and benefit from collaboration. People can comment on each other's work, important work documents are more visible, and updated training or blog articles can easily be shared to increase knowledge.
Reinforces Your Company's Brand
By this point you already know the power of externally reinforcing your company's brand, but did you know it's also important to do so internally as well? Branding can be the difference between an engaged, driven workforce and a lackadaisical one. Employees don't come with buy-in to your organization and its values. Loyalty and dedication to the work they do only comes through repeated exposure to your brand and your values. A fully branded intranet allows you to make it clear who you are and what about your organization you value. This in turn leads to your employees feeling an increased sense of brand commitment and loyalty. The more they feel this, the harder they'll work and the more they'll be willing to invest into your company.
Saves You Time
Time is money - something especially true for workplace productivity. All throughout the day, your team is forced to slog through a series of menial, time-consuming tasks and processes. These can range from manually requesting approval for a form to having to remind a team member to perform a required task. In fact, a recent business study found that employees and business leaders waste an average of 21.8 hours a week on mundane tasks that don't directly benefit your bottom line. That's plenty of time that could be spent doing more directly profitable activities. With a corporate intranet, you can actually automate many of these menial tasks. this can free up your time and allow you to focus on the tasks and activities that actually matter.
Drives Engagement
Employee engagement can be a tricky topic for many companies. In fact, a recent Gallup poll showed that 65% of US employees aren't engaged while at work. Poor engagement can be a major recurring issue for your company. It actively costs you money; Gallup reports that companies with actively engaged employees see a 20% increase in sales and a 21% increase in profitability. To flip that, you're seeing 20% less sales and profits if your team isn't engaging with their work. An intranet can be a major tool for combating low employee engagement. It builds a central place for fostering active communication, feedback, collaboration, and more. We've found that companies that introduce a corporate intranet often see major increases in overall employee morale, productivity, and retention.
Benefits of Building Your Intranet in SharePoint
The benefits of using a corporate intranet are more than obvious. So what now? Well, any old intranet isn't going to fit your needs. The best option for building proper corporate collaboration is an intranet portal software. Let's take a look at the benefits of adopting SharePoint intranet.
Easy to Use
An intranet portal won't do your company any good if it's hard to use. Thankfully, SharePoint is extremely easy to learn and simple to use. Over 190 million people across the globe wouldn't be using SharePoint if this wasn't the case. You won't have to worry about user adoption with SharePoint. In our experience, users who have adopted our SharePoint intranet solution have been able to hit the ground running with their corporate intranet portal.
Offers a Ton of Options
One of the major selling points of SharePoint is how flexible it is. No two SharePoint intranets will look the same. Custom SharePoint intranet software can be fully modified to fit whatever you need it to do. This includes everything such as your site templates, web parts, page layouts, functionality, aesthetics, and more. Whatever features you need from your SharePoint intranet will be able to be implemented.
Makes Employee Recognition Easy
SharePoint's ever-evolving social functions make it easy to connect and recognize employees for the work they do. With everything passing through the intranet, no one's work goes unnoticed. You can track everything they're doing and respond accordingly. Some responses include private messaging, recognizing them in an internal newsletter, or making a public announcement on your SharePoint intranet's social channels.
Office 365 and Microsoft Tool Integration
Office 365 is incredibly useful. Word, Excel, PowerPoint, etc - your team likely uses any or all of these on a daily basis. That's why it's great that SharePoint is able to integrate the full array of tools offered in your Office 365 subscription. This includes Yammer, Teams, OneDrive, Power BI, and more. This allows you to build a solid digital workplace that you don't need multiple accounts to access. A SharePoint intranet offers you full single sign-on for maximum convenience.
Makes it Easy to Share and Manage Documents
If there is one thing SharePoint is good for, it's document management. SharePoint's robust document library capabilities make it easy to share and distribute documents within your organization. You'll gain access to features such as version history, document check-in/check-out, and more. By switching to SharePoint intranet, you'll find that the way your organization handles documents will become exponentially more efficient and effective.
Makes External Sharing Easy
Trying to share documents with people outside of your organization can be a pain. There are a ton of hoops that you have to jump through in order to do so safely. Frankly, external document sharing can be incredibly time-consuming. That's where SharePoint comes in. SharePoint makes it incredibly easy to externally share documents securely. You'll maintain full control over the document without having to follow a 37-step guide.
Highly Secure
One of the best parts about SharePoint is how secure it is. All of the information you put into you intranet will be stored in Microsoft's cloud servers. These are some of the most secure servers you can find. A SharePoint intranet also allows you to go a step further and add other security features including two-factor authentication to make sure that your documents stay safe.
Ongoing Development
Microsoft is constantly working on and investing in SharePoint. The last several years have seen Microsoft introduce huge changes as it makes the platform more powerful and user-friendly. A corporate intranet built on such a great platform will definitely be able to scale with your company as you grow. You can be confident that adopting a SharePoint intranet is a surefire investment for the future.
Conclusion
No two companies have the same needs. What is a problem for one business may not be a problem that your organization is facing. However, an intranet isn't something that just solves one problem. As we've made clear, a SharePoint intranet portal is an incredibly powerful tool that can solve any problem your company might have. Further, if it can't solve it out of the box, you can bet that you'll be able to customize it to better fit your needs.
There are plenty of companies offering SharePoint intranet portals out there. That's why it's important that you pick the right one. You should be on the lookout for a powerful, yet easy to use intranet portal that can meet all of your needs. Lucky for you, Dock Intranet might just be what you're looking for. Our intranet is built with 17 years of experience, SharePoint development experience, and business sense to meet your needs. If it doesn't have all of the features you're looking for, we can almost certainly build them out for you.
If you're interested in learning more about Dock Intranet, sign up for a free demo today. Just fill out the form to the right and you'll be taking the first step toward taking your business to the next level.
Book a
Live demo
Schedule a live demo of Dock 365's Contract Management Software now.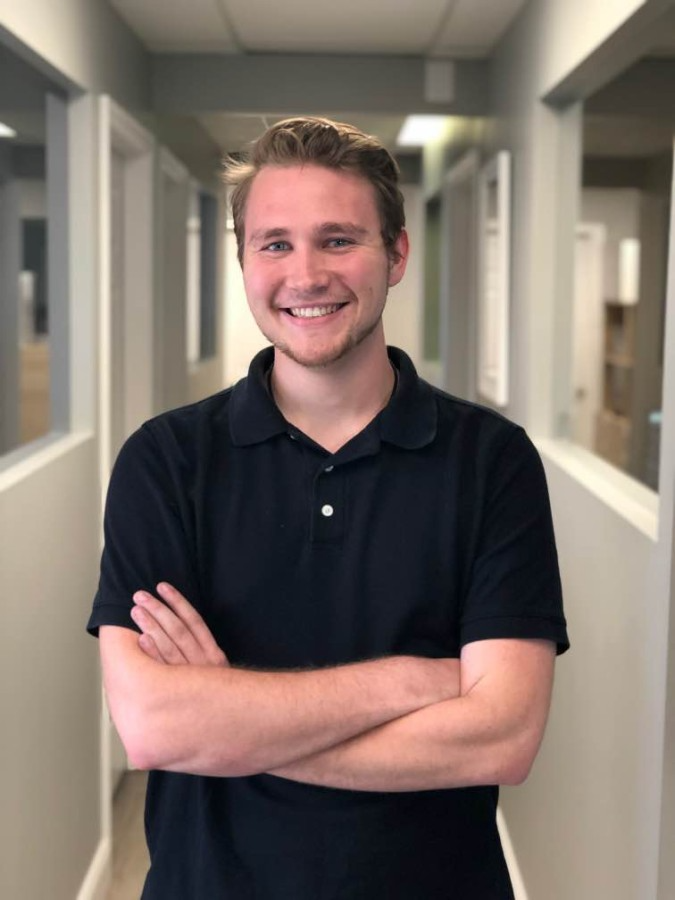 Quentin Russell is a Content Specialist with knowledge of Content Marketing and Social Media Marketing.