SharePoint Online is one of the best tools around for storing, managing, and accessing documents. If offers a wide range of options for organizing your files to suit your needs. However, while there's a lot you can do, there are several things that you should consider when it comes to your document libraries. So, to help you out, we put together a list of 7 tips that you can use for managing your document libraries in SharePoint Online.
Content-
1. Use Document Versioning
When it comes to managing SharePoint document libraries, mistakes can happen. You can run into situations where someone accidentally saves over a file or makes a change they shouldn't have. To avoid this, you should turn on document version control. Document version control, or "versioning," allows you to store, track, and restore files that have been modified. This can help you to restore old versions or compare changes between two instances of a document. Thankfully, out-of-the-box SharePoint Online comes with version control turned on by default. However, you should still make sure that it is enabled for your company.
2. Meta Tags, Not Folders
If you're not used to using SharePoint Online, you're probably still sorting your files using folders. Folders work okay, but using them won't be as effective as using metadata in SharePoint Online. By using folders, you're restricting yourself to a single way to classify content. By using metadata, you can be far more flexible with how you classify your files. This allows you to sort and organize your document libraries based on what they contain. Metadata removes the headache of your users trying to adjust the documents they're storing to match the classification structure of document libraries that use folders. Not only will you be more flexible, but the functionality of your document libraries will be increased.
3. Content Types
Not only should you be using metadata, but you should also be taking advantage of content type functionality in SharePoint Online. Setting up content types allows you to create dynamic properties/meta tags that vary depending on the documents you upload. However, if you're doing a bulk upload, you won't be able to adjust individual tags/properties -- the whole upload will be uploaded as that content type. Because of this, we recommend setting it up so that you're only using one content type per document library. Not having to assign a content type to each document in a large upload can save your users valuable time.
4. Configure Alerts
It can be hard to keep track of the changes that happen in your document libraries. This is especially the case as you add more and more users to the mix. That's why we recommend setting up alerts in each of your document libraries. Alerts in SharePoint Online document libraries will send you a notification when other users change a file. This includes making edits, moving it, or deleting it. The best part is that alerts aren't just restricted to administrators. Any user can set up an alert on a document. Due to this, users don't have to be worried about changes being made without their knowledge. This offers you and your users a higher degree of control over files in your SharePoint document libraries.
5. Set Up Views
One of the main reasons you should use metadata and set up meta tags is so that you can create views. Views in SharePoint Online allow you to use the filter/sort/group function to display the information you want. They can help you manage the space on a page. This allows you to fit multiple lists and libraries on a page for easy navigation. You can make the view as simple or as complicated as you'd like. Users can also choose which views they use in order to display other pieces of information about documents. Views in SharePoint Online make it so you don't have to manually sort and filter each time you load a library. Instead, everything you're looking for is available immediately.
6. Avoid Spaces
Don't use spaces when you name your document libraries in SharePoint Online. While this might seem like a minor thing, URLs in SharePoint Online don't accept spaces. Instead, document libraries fill spaces with filler characters such as "%," "&," and "$." This can cause issues with people trying to find your document libraries. Instead, use capitalization in place of spaces. For example, say you're going to be naming a library "Dock Product Folder." Instead of naming it that, you would want to name it "DockProductFolder." It should be clear what is in the folder and you don't have to deal with any filler characters.
7. Turn on Co-Authoring
Say you're attempting to access a the Dock Product Folder and you're hit with the "This file is locked for editing" pop-up. It can take time to reach out to the owners of a document and get them to give you access. Most of the time this is fine, but this could end up being a major impediment for a more time-sensitive project. That's why you should turn on co-authoring in SharePoint Online. Co-authoring makes it easy for users to collaborate and review documents within a document library. If you're worried about unauthorized people accessing a document, you can turn of co-authoring for specific projects or work on them in OneDrive before uploading them to the document library.
Conclusion
As we said before, SharePoint Online is a great tool for storing and managing your company's documents. By using the tips we've provided today, it should be easy for you to get started setting up your document libraries in SharePoint Online like a pro.
If you are interested in learning more about SharePoint, or you're looking to get more out of Office 365, feel free to fill out the form to the right. Our team would love to schedule a time to talk with you about making SharePoint Online environment work perfectly for you.
Book a
Live demo
Schedule a live demo of Dock 365's Contract Management Software now.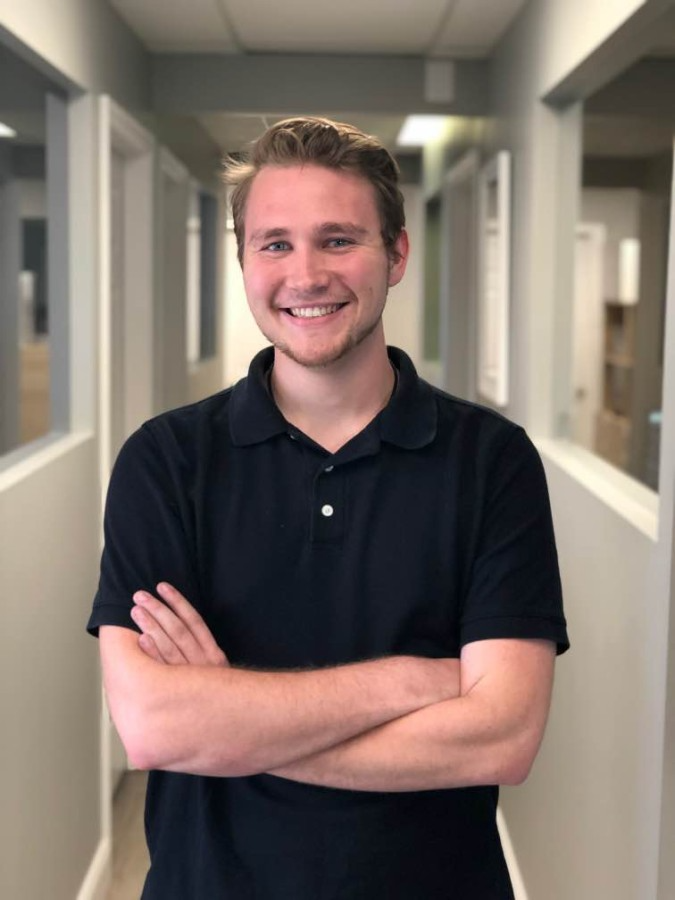 Quentin Russell is a Content Specialist with knowledge of Content Marketing and Social Media Marketing.