SharePoint is often used to create sites for various purposes and activities because it is very effective at coordinating all communication and files related to several processes. Every file managed through SharePoint sites is kept in a dedicated document libraries. You can upload different types of files to this centralized storage.
Moreover, SharePoint lets you create unique URLs for these documents so that you can easily share documents with users who are not part of your SharePoint site. Did you know that SharePoint Document Libraries allow you to add links too, along with other document types?
In this blog, we will inform you on how to add a SharePoint link for a document or site to a document library.
Why Adding A Link Instead Of A Document Is A Better Option
Adding a link is oftentimes more sensible than adding a document and this is significant when you want to gain access to a file or resource that is already uploaded to your SharePoint environment. There are also different ways to upload documents to a SharePoint library. No need to upload a file twice, instead, get the URL of the item and add it to the document library in the same way that would for other documents.
This capability is available both in Microsoft 365 and SharePoint Server 2019. With this option, you can add links to files, folders, documents, SharePoint sites, and external sites. Furthermore, the link will be listed along with all other items in your document library too.
How To Add A Link To A SharePoint Document Library
Complete the following steps to add a link to SharePoint Document Library for ease of access:
Go to the desired document library
Click on the + New icon and choose Link

Create link to pane will appear on the right side of the page
Enter link to the desired document, item, or site into the provided field

You can also choose any recently used documents from the list below
In this example, we are adding a link to Dock 365's Contract Lifecycle Management Software product page
Once the link is pasted, enter the desired file name for the link

Click Create to complete the process
You will now see the link listed among other files in your document library

Are there any limitations to this feature?
There are a few limitations to be aware of when using this feature. This feature is not available in the Classic SharePoint Experience. The SharePoint Server 2016 and earlier versions will also not have this feature. If you are unsure about the SharePoint version you currently use, we can help you with a quick tip to find it easily in the video tutorial below.
How can I make the most of this feature?
The biggest advantage of this feature is that you will avoid uploading the same file to your SharePoint environment multiple times. You just need to know how to get the URL of a file, SharePoint site, or document folder to utilize this feature. Here is how you can copy the link to the desired item easily.
Go to the document library in which the desired file is located
Select the document and click on Copy link option from the top

A dialogue box with the link will appear > Click Copy to copy the link to the clipboard automatically

Paste the link to the space provided in the steps defined in the first part of this blog to add a link to a SharePoint document library instantly
Now you can easily use this feature and effectively generate the SharePoint link to a document. Try these options and let us know about your experience in the comments below.
Book a
Live demo
Schedule a live demo of Dock 365's Contract Management Software now.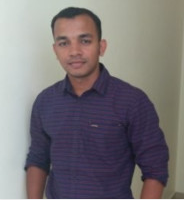 Alex Joseph is a Digital Marketing Strategist with explicit knowledge in Content Marketing and Microsoft Technologies. A writer by day, Alex is a night owl and a DIYer. Alex's theory is to make businesses achieve success with modern solutions and smart exploitation of resources.