Getting tasks done without fail is an important process in every employee's daily to-do list. Employers provide all kinds of support and tools to let them succeed with their target tasks. Microsoft's various solutions are aligned with this main goal. In this blog post, we are going to talk about the new Power Automate app in Microsoft Teams, which can be used to automate daily tasks and make work easier and more effortless.
Why this is More Significant in the Work from Home Scenario
Ever since the pandemic situation spread across the globe, most companies and organizations changed to remote working model. However, it did not make work easier, but it allowed businesses to run even when all the employees are working from their homes. Microsoft Teams and other Microsoft solutions played a significant role in making people do their work with utmost efficiency.
It is a fact that working from home involves more working time when compared to the same amount of work done in the office. Automating some of the daily tasks with the help of the power automate app in Microsoft Teams can let you avoid these extra hours of work to a great extent. Let us see what makes Power Automate App much easier to use and advantageous in handling daily tasks smartly.
Design Flows with a Simple Process
The first positive point about the power automate app is that it is straight forward and simple. There are no complicated steps involved to set up a flow as you need. The easy creation process is the major highlight of this old Microsoft flow app. By choosing the right parameters from a few simple drop-down options you can set up flows that will help you automate your daily processes quickly. Moreover, it takes only very little time to create a flow if you are experienced in creating flows.
In this new version, the power automate comes with around 50 pre-set templates that let you get started quickly. There are more templates on the making that will surely enhance the simple design capability of the app. There is also an 'edit in advanced mode' option provided to let the user edit the flow from top to bottom with full creator options. The 'Create 'option at the top on the other side allows the users to create a flow from scratch. Most importantly, you can get all this done without leaving the Microsoft Teams platform.
Fast Automation Creation
It is not just the simple flow designer experience that is letting you do this easily, but the availability of templates, actions, and triggers also have a major role to play in the fast automation creation. Recently more triggers and actions were added to the app which makes automation creation effortless. There are even templates that let you schedule one on one meetings with someone.
With these smart automation instances, you will be able to automate daily tasks and processes quickly. It improves the way you process works, and let you save a lot of time. By eliminating more time spent on each recurring task/process, you will be able to improve the overall morale of your employees too.
Home Screen Flow Management
It is now possible to manage and control all your flows and processes from a home screen. The home page of the new Microsoft Flow app called Power Automate in Teams lets you take all actions regarding the flows from one place. You can quickly get an idea about the flows you have, the people involved in each flow, and the type of flows you are running in a single view.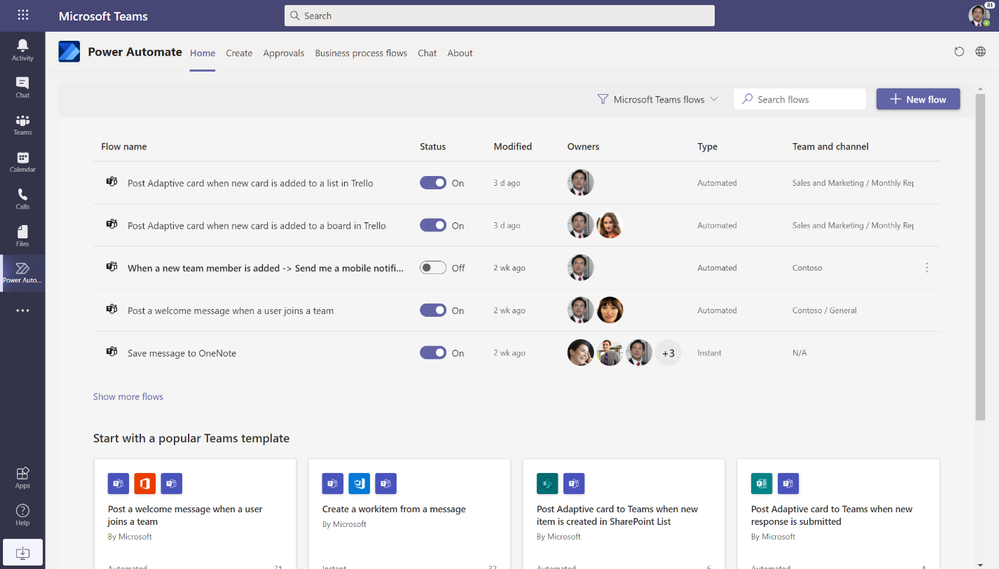 Moreover, you can take actions like turning on or off flows, and even go into a detailed view to make modifications right away. These are capabilities, that make your automation creation and management processes faster and easier. It is also essential to know the channel or Teams to which each flow is connected. This is also possible from the home screen of this Microsoft flow app. Furthermore, there is still the approvals management tab as before, which can be used for managing the approvals processes with ease.
Hope you liked this blog post. Try out the new Microsoft power automate app and let us know your comments, and queries below.
Book a
Live demo
Schedule a live demo of Dock 365's Contract Management Software now.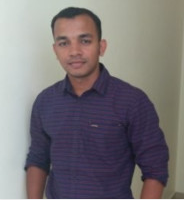 Alex Joseph is a Digital Marketing Strategist with explicit knowledge in Content Marketing and Microsoft Technologies. A writer by day, Alex is a night owl and a DIYer. Alex's theory is to make businesses achieve success with modern solutions and smart exploitation of resources.