Visibility and discoverability of content should be high to achieve the purpose of your content. Microsoft SharePoint is fantastic in creating, storing, sharing, and collaborating content with your team. In general, search, filter, and description are some of the factors we use to let our content reach its desired audience effortlessly. You can find similar options in SharePoint too. Metadata is a major element we mostly depend on the platform to make our content easily findable. We have already done a blog that explains the best ways to manage SharePoint Metadata. It tells you how to use metadata in SharePoint. Let us now talk about metadata navigation and how to set it up for SharePoint List and Libraries.
If metadata can make your content easily findable, metadata can make things even easier. When you add metadata navigation to a SharePoint library or list, users will be able to filter and search for specific content by using the navigation tree that appears on the side. Furthermore, you can add key filters to enhance the list of items that show up based on the filters applied. You can define which columns from the list or library should show up in the navigation tree while configuring the metadata navigation feature. This will help you to navigate to the library easily. Let us see how to do that in real-world conditions.
Steps to Enable Metadata Navigation on A SharePoint Site
To navigate to the library and lists in your SharePoint platform, these options will be helpful. Follow the steps below to enable metadata navigation on your SharePoint site:
Go to the SharePoint Site to which you wish to make changes.
Click on the Settings icon seen on the top right corner of the page.
Select Site Information and choose All Site Settings.
From Site actions sections, choose Manage site features.
From the Features list, look for the Metadata Navigation and Filtering option and select Activate.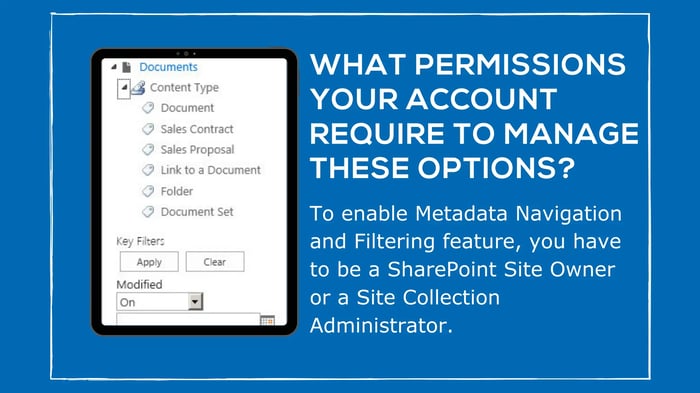 How to Assure Easy Searching and Filtering Using Metadata
While managing metadata in Microsoft 365 SharePoint, users can add an enterprise keywords column to create text values that make search and filter options work more efficiently. Moreover, it will enable metadata reuse and consistency. When you add an enterprise keywords column to your list/library, it will also connect your managed metadata infrastructure, and legacy keyword fields efficiently. To perform these actions, you will need an account with permission to manage lists permission level. Follow the steps below to add enterprise keywords column to your list and navigate to the library and SharePoint lists effectively:
Go to the list or library to which you wish to configure the metadata navigation and filtering option.
Click on the Settings icon and choose List Settings/Library Settings.
Look for the Permissions and Management section and pick Enterprise Metadata and Keywords Settings.
Select the Enterprise keywords checkbox option from the Enterprise Metadata and Keywords Settings.
Click on Ok.
By now you might have achieved a clear idea about how to use metadata in SharePoint.
How to Use Navigation Trees and Key Filters
Once the metadata navigation option is configured for your SharePoint site, it displays a navigation tree on the left side of your site. The tree with managed metadata terms and keywords makes it easier for users to generate dynamic views of the content by selecting relevant items. The key filter options provided below the navigation tree allow users to further change the search or filter results. After learning how to use metadata in SharePoint well, you will need these features to enhance your search and filtering experiences.
How Automatic Index Creation Works
Automatic index creation is performed by SharePoint by default. For all the fields that you link up with the Navigation tree and key filters, indexes will be created automatically. Apart from the content type and choice fields, all other single-column indexes will be created for supported key filter fields.
What Are Indexed Queries and Fallback Queries
In most of the SharePoint sites, metadata navigation and filtering are by default enabled. Even for those sites which have not enabled these options, some of its features still work in the background to assure better performance of the list and library views. Whenever a user loads a view, the metadata navigation and filtering capabilities pick the best index that can work perfectly for the query.
A fallback query on the other hand is created when a user loads a view that is over the threshold so that the metadata navigation and filtering capability generates a custom version of the original user query. The intention behind the fallback query is to supply useful outcomes when the original query is difficult to process. This should also be considered as a warning for the list and library owners that your team is finding it difficult to access data.
Hope you got a clear picture of how to navigate to the library and lists effectively. Learn more about these options and make the most of the features.
Book a
Live demo
Schedule a live demo of Dock 365's Contract Management Software now.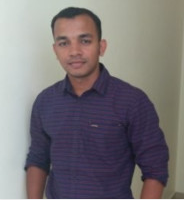 Alex Joseph is a Digital Marketing Strategist with explicit knowledge in Content Marketing and Microsoft Technologies. A writer by day, Alex is a night owl and a DIYer. Alex's theory is to make businesses achieve success with modern solutions and smart exploitation of resources.